APPION 4FT - MEGAFLOW 3/8" YELLOW HOSE, 1/4" X 1/4"
Fast Recovery #3: Full Flow for Fastest Recovery
Download Files
MegaFlow_Hoses_(2).pdf
(1.41 MB)
MegaFlow 3/8in High-Speed Recovery Hose
Increase the speed of your refrigerant recovery process by using the MegaFlow 3/8in High-Speed Recovery Hose.
Features and Benefits
Large 3/8in Internal Diameter for superior performance
Short 4ft length
Ultra-flexible for easy connections in tight spaces (small Ductless systems)
Full Flow - more flow than a restrictive 1/4in charging hose
Rated for use with R410A and all common refrigerants
4000 psi burst and 800 psi working pressure
Vacuum-Rated to 20 microns
Won't permeate or collapse in a vacuum
1/4in FL fittings make it easy to connect to the Appion Refrigerant Recovery Pumps, Appion Valve Core Removal Tools and recovery tanks
Larger Hoses for Refrigerant Recovery
Even when restricted by 1/4in system ports, using a 3/8in hose greatly reduces resistance and increases potential flow.
Don't believe us? Click the link --> Full Flow to learn more about reducing recovery times. Save Hours, save Days, save Money.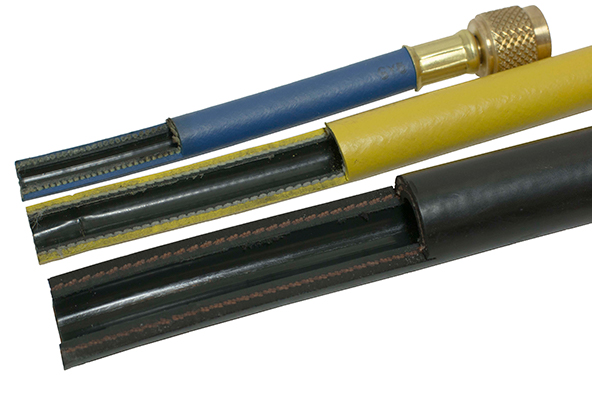 Are your Tools Rated for Vacuum and Pressure?
All MegaFlow Hoses are Vacuum-Rated to 20 microns and designed for high pressure refrigerants, such as R410A. This will give you the peace of mind that your tools aren't going to leak in a deep vacuum or during critical parts of the recovery process.